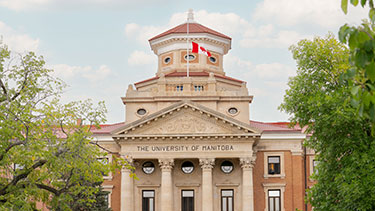 One of Canada's premier universities
Recognized as one of Canada's premier universities, the University of Manitoba supports international students with world-class facilities and infrastructure.
Moving to Canada to study is an exciting opportunity. The University of Manitoba (UM) welcomes students, like you, from around the world to live and learn at its campus. Over 5,500 international students representing more than 120 countries learn at UM.
Knowing there is more to university than just the classroom, UM creates an environment to develop lifelong friendships, memories and to be involved in its community. UM is a great place to expand your horizons, meet new people and find your place through student groups, recreation activities, volunteer programs and more.
Take a virtual tour of the UM Campus and explore what UM has to offer.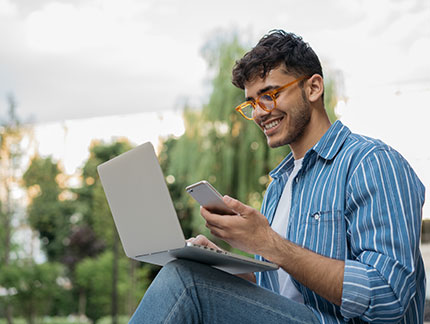 The numbers speak for themselves
UM stats and facts:
31,000 students
5,700+ academic staff
100-plus world class programs
Over $21 million in scholarships and bursaries available
Learn more about UM
Your pathway to Manitoba's flagship university
The University of Manitoba believes in pursuing big ideas. There are four core areas in which UM is uniquely positioned to lead: understanding, mitigating and adapting to climate change; advancing Reconciliation and Indigenous achievement; bolstering health as a human right; and transforming the learning experience in post-secondary education.
Practical paid work experience
Following ICM completion, once you are at the UM you may have the opportunity to apply to a Co-operative Education Program (Co-op). Co-ops combine classroom knowledge with practical paid work experience to further enhance your skills. You'll walk away with the training you need to set you apart when you hit the job market.
Students who work in the Co-op program develop networks and career opportunities that help them find jobs quicker and receive higher salaries than students who graduate without the Co-op program. Co-op programs are available in several areas. More details.
A premier research university
UM is among Canada's top research institutions, combining in-class knowledge with practical applications and fieldwork with professionals in dozens of fields, called the U15. Along with colleagues from universities such as UBC, McGill and the University of Toronto, the U15 is a strong voice for promoting research incentives within the university sectors. Learn more.
UM students not only receive world-class instruction from award-winning professors and researchers. They also have the opportunity to work alongside these great minds, gaining research experience at the undergraduate level.
Study here, stay here
Many international UM graduates find meaningful careers and permanent homes in Manitoba. When you graduate from UM, you may qualify for a work permit and, later, permanent residency.