A large part of what makes UM fantastic are the world-class services and supports it provides. ICM students have full access to UM campus services. Here are some of the many supports and facilities available to you!
Academic Learning Centre
The Academic Learning Centre can help you in a variety of different ways. The Centre provides the support you need to be successful in your courses. Online, workshop and drop-in resources are available.
Career Services
Career Services can assist you in answering career planning and job search questions. They will help you with career options after graduating from specific faculties and programs, as well as developing a plan for future success.
Career Services also offers an excellent resource that can help map your career path – the Career Compass.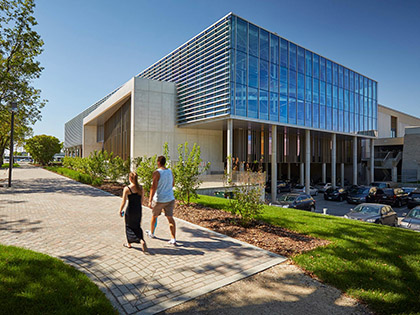 Active Living Centre
The UM Active Living Centre is available for support your physical activity, stress relief, spiritual connectedness, and social bonding needs, as well as providing the opportunity to learn new skills. Whether you are beginner or advanced, prefer organized or drop-in, or like individual, team, or group activities, the UM Active Living Centre has something for you.
This is a state-of-the-art facility, located at the south-west corner of the Fort Garry campus, includes:
200-metre indoor track
Outdoor tennis courts
Indoor squash and racquetball courts
Table tennis
Indoor saltwater pool
Group fitness classes
Ice rink
40-ft indoor climbing wall
Fitness centre including 100 pieces of free weights and accessories, 160 pieces of cardio equipment, 64 pieces of resistance equipment and 49 pieces of strength equipment
Free admission to campus athletic events
Student Counselling Centre (SCC)
The Student Counselling Centre offers multiple services to ensure UM students are helped with any difficulties they may be experiencing, while supporting the student's academic success. Located on campus, the SCC is available to help you with any frustrations or stress with which you may be dealing.
Student Accessibility Services
If you are a student living with a disability, Student Accessibility Services (SAS) is available to support your needs and acts as a liaison between students, faculty, staff and service agencies. Located on campus, the SAS advocates for students with disabilities such as:
hearing
learning
injury-related
mental Health
medical
physical
visual
temporary disabilities, such as bone breaks or sprains